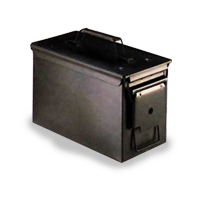 Features
The Golden Season range of ammunition cans are manufactured using up to date techniques in metal strapping and modern materials to meet military requirements.
Our experience with international markets give us the know how to deal with the financial, shipping and special requirements around the world.
M2A1 Ammunition Containers meets the specification of MIL-B-3060E:
Application:
Cartridge 5.56 mm in bandoleers
Cartridge 5.56 mm in Linked
Cartridge 7.62 mm in bandoleers
Cartridge 7.62 mm in Linked
Cartridge .30 caliber carbine
Cartridge .50 caliber Linked
Cartridge .38 special
Cartridge 9mm
Cartridge .45 ACP
Cartridge 12 gauge shotgun shell Fuses for Artillery
Cartridge .22LR
For all kinds of Small Arms and Ammunition and Fuses for Artillery
Specification
Product Information
| | |
| --- | --- |
| Item code | M2A1 |
| Military Spec | MIL-B-3060E |
Technical Information
Length
280mm
Width
139.5mm
Internal Depth
171.5mm
Tolerance
± 1.6
Color (Standard) or Customer requirement
Powder coating
*Salt-spray test report from testing organization will be issued upon request.
*Specifications are subject to change without prior notice.